From the Parish Office
Job Vacancy
Please check our Parish Council Vacancies section for details of a Caretaker/Cleaner vacancy.
Station Road Recreation Ground Redevelopment
Heighington Parish Council have some exciting news to share with our residents regarding Phase One of the Station Road Redevelopment Project! The purchase of 5 pieces of equipment for the site has been agreed. We anticipate the installation to occur in September and are already investigating the possibility of installing CCTV at the site. As part of the upcoming Phases of the Redevelopment Project we will be looking at a piece play equipment to cater for our children with additional needs. Look out on our noticeboards, Social Media and Website for updates.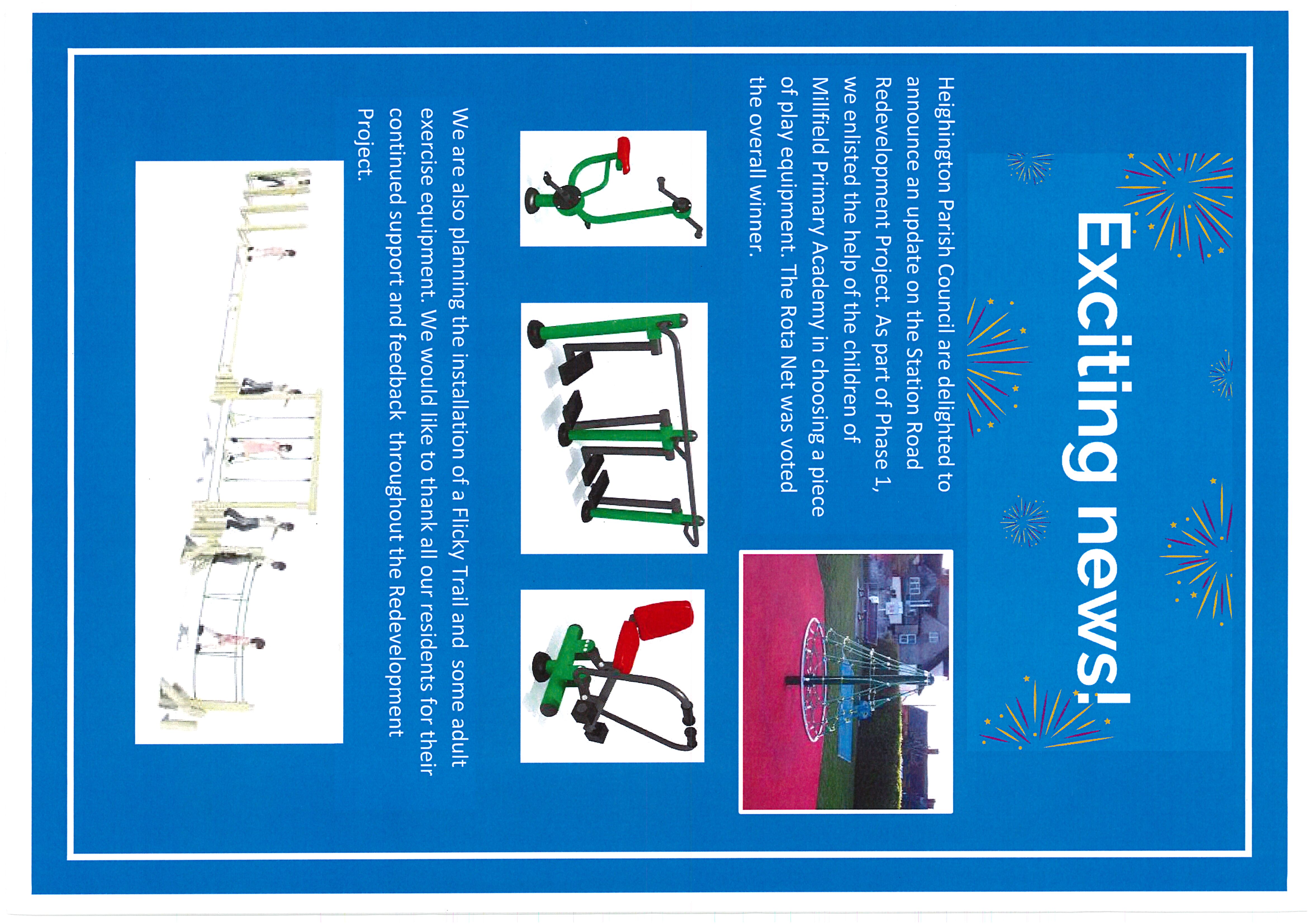 Free Play Tennis
The Parish Council will be offering residents Free Play Tennis at the Station Road Courts from 29th March 2021. For more information, please contact the Parish Office on 01522 790846 or email us at heighingtonpc@gmail.com (Terms and conditions apply).
Our New Clothes Bank
Many thanks to all the residents who have used our new clothes bank, it has just been emptied and is ready to be used again! Your support will help to fund local charities and Parish projects.
The Parish Office
The Parish Council Office will be reopening on the 19th of July in line with Government Guidelines and the Clerking Team would appreciate it if masks can worn and hand sanitiser used on entering the office. The Parish Office is normally open 10:00 – 14:00 Monday to Thursday. Occasionally the office may be closed if we need to attend another site or due to holidays. Alternatively send us an email at heighingtonpc@gmail.com or phone us on 01522 790846.
You can also visit our website: https://heighington.parish.lincolnshire.gov.uk/
You can find us on Facebook: Heighington Parish Council-Lincolnshire
We are also on Nextdoor.
Bookings
The Parish Council would like to clarify that during the Full Council Meeting of the 9th March 2020 ,revising the Hire Conditions of Jubilee Hall was discussed and it was decided that the Hall would no longer be available for Hire during Bank Holiday periods (including the period Christmas to New Year). If you would like to enquire about booking Jubilee Hall for a function at any other time, please contact the Parish Office at heighingtonpc@gmail.com or on 01522 790846 and we will be more than happy to check our diary and provide any information you may require!
Please note: The principal notice board for Heighington Parish Council is located on the front of the Spar supermarket in the High Street and is updated regularly.